John Mico
Born: Abt 1664, Boston MA

Marriage (1): Mary Brattle on 20 Aug 1689 in Boston MA

Died: Oct 1718, Boston MA

Buried: 18 Oct 1718, Boston MA
General notes:
Example
Events in his life were: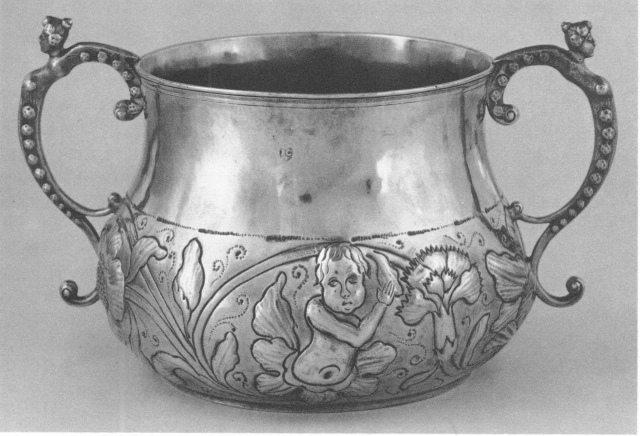 Caudle cup by John Coney, c 1690
Museum of Fine Arts, Boston 10
h: 5 5/8"
d: 5 1/8" (base)
wt: 26 oz, 17 1/2 dwt
Engraved "M over I M" for John and Mary (Brattle) Mico. This cup eventually desended to Oliver Wendle Holmes and inspired his poem On Lending a Punch Bowl. A mate to this cup is owned by Harvard and engraved with the Holyoke arms for Elizur Holyoke, who died in 1711 leaving "168 1/4 ounces of Plate a 8/ the ounce."
John married Mary Brattle, daughter of Thomas William Brattle and Elizabeth Tyng, on 20 Aug 1689 in Boston MA. (Mary Brattle was born on 10 Aug 1668 in Boston MA and died on 22 Dec 1733 in Boston MA.)