Peter Van Brugh Livingston 1
Born: 3 Nov 1710, Albany NY

Marriage (1): Mary Alexander on 3 Nov 1738

Died: 28 Dec 1792
General notes:
Example
Events in his life were: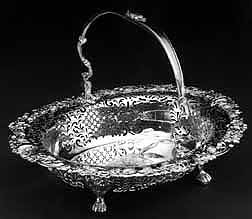 Cake basket by Bartholomew Le Roux
Private Collection 13
The Livingston family coat of arms is engraved in the bottom of the basket, and a cast scallop shell crest is on the handle. It is believed to have been made for Peter Van Brugh Livingston, Revolutionary patriot and a merchant in the shipping business. Only two other American cake or bread baskets are known, both made in New York, one by Daniel Christian Fueter and the other by Myer Myers, and both shown in the 1992 rococo exhibition at the Metropolitan Museum of Art and the Los Angeles County Museum.
Peter married Mary Alexander on 3 Nov 1738. (Mary Alexander was born on 16 Oct 1721 in Albany NY and died on 26 Sep 1767.)