John Clark Blackman
Born: 11 Sep 1807, Danbury CT

Marriage (1): Betsey Bishop

Died: 8 Dec 1872, Bridgeport CT
General notes:
Silversmith and watchmaker
Events in his life were: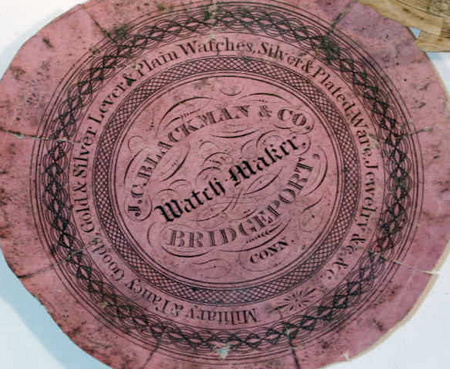 Watch paper, c 1835
Private Collection


He was a partner circa 1838-1856 with John Blackman Sanford in Bridgeport CT
Sanford, a bookseller, induced his nephew to join him and, with Sanford's son George, establish a jewelry business in connection with his store as J. C. BLACKMAN & Co. While he had other dealings and business connections, this firm continued in business, in name at least, into the late 1850s.


He was a partner about 1849-1858 with Frederick Starr Blackman in Bridgeport CT as J. C. & F. S. BLACKMAN. The partnership is not listed in directories and the brothers maintained their seperate shops. 4

He was a partner circa 1856-1872 with James P. Warner in Bridgeport CT as BLACKMAN & WARNER. Warner had been the watchmaker for J. C. BLACKMAN & Co. When John Blackman Sanford died, his son George retired and this firm was formed, continuing in the old shop.

He worked about 1859-1870 as a silversmith in Bridgeport CT as J. C. BLACKMAN & Co 4
Advertised in the Bangor Daily Whig and Courier (Bangor ME), 18 May 1861, as part of a group endorsement of the Waltham Watch Company.
John married Betsey Bishop. (Betsey Bishop was born on 27 May 1810 in Danbury CT and died on 3 May 1905.)