Thomas Baker
Born: 23 Feb 1793, Ipswich MA

Died: 31 Oct 1820, Concord NH
General notes:
Silversmith
Events in his life were:
He was a partner circa 1817-1819 with Jabez Baldwin in Salem MA as BALDWIN & BAKER 4
Advertised in the Concord Observer (Concord NH), 1 Jan 1819, noting his shop formerly occupied by Abel Hutchins, a clockmaker, but Baker added, that he will "manufacture gold beads, silver spoons, etc." 3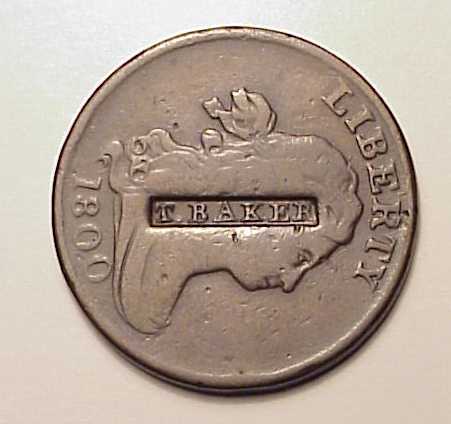 Countermarked coin, 1818-1819
Private Collection

Obituary printed in the Concord Observer (Concord NH) on 16 Nov 1820 3
". . . death after a severe and distressing illness of about ten days, Mr. Thomas Baker, goldsmith and jeweler. . . ." The inventory of his estate, now at New Hampshire Historical Society, shows a large quantity of books, scales and silverware. Gravestone inscription in Hammond's Old North Cemetery, Concord, 1730-1934, states he died Oct. 31, 1820. Belknap's Artists and Craftsmen of Essex County says his will was probated 27 November 1820, in Haverhill.