Timothy Bonticou
Born: 17 Jun 1693, New York City NY

Marriage (1): Mrs. Mary Bonticou about 1715 in France ?

Marriage (2): Mary Goodrich on 29 Sep 1736 in New Haven CT

Died: 14 Feb 1784, New Haven CT
General notes:
Silversmith
Events in his life were:
Flynt & Fales:, . 3 Grew up in NY then travelled to France to apprentice in silversmithing. Had returned to Stratford CT by 12 Oct 1735. Later working in New Haven. Shop on Fleet Street in 1748. Owned real estate in New Haven and New York. Founding member of Trinity Episcopal Church in New Haven. Robbed by British during Revolution.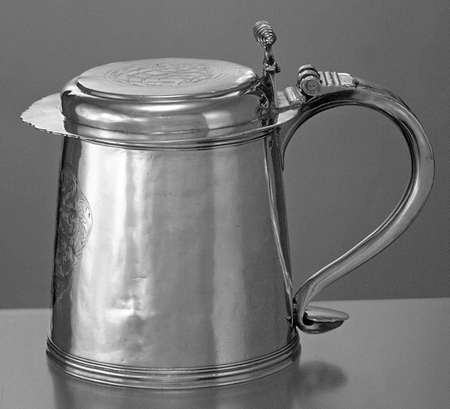 Tankard, c 1725
Yale University
h: 6 5/16"
d: 4 13/16" (of base)
wt: 22 oz, 14 dwt
Engraved on front with an unidentified crest and "TCG" ina conjoined cypher along with carpenter's scale below on cover.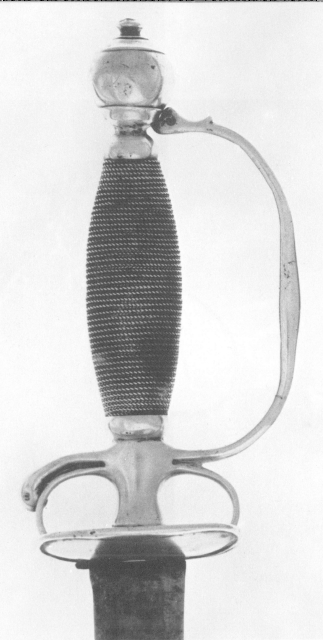 Sword, c 1735-1775
Private Collection 14
l: 6 1/2" (hilt alone)
Timothy married Mrs. Mary Bonticou about 1715 in France ?. (Mrs. Mary Bonticou died about 1735.)
Timothy next married Mary Goodrich on 29 Sep 1736 in New Haven CT. (Mary Goodrich was born on 15 Dec 1704 in Wethersfield CT, died on 13 Jun 1740 and was buried in New Haven CT.)