Caleb Kendall
Born: 10 Jul 1782, Woodstock VT

Died: 13 Mar 1847, Windsor VT
General notes:
Silversmith, jeweler, and watchmaker
Events in his life were:

He worked on 5 Sep 1811-1812 as a silversmith, jeweler, and watchmaker in Woodstock VT he kept on hand most kinds of watch materials, performed both silver and brass work, as well as engraving, and cleaned and repaired clocks. His price for cleansing and warranting finished watches for one year was 50 cents and he advertised that he gave "personal and unremitting attention to his business" from his shop a few rods from the South Meeting House. 16
He worked circa 1812-1845 as a silversmith, jeweler, and watchmaker in Windsor VT with a shop was located on Main Street. In the 1823-1831 account book kept by Russell & Plumb, silversmiths and jewelers in Windsor, under date of February 9, 1823, is an entry showing that Kendall purchased a watch glass from them for 20 cents and a mainspring a month later, but apparently they gave him the mainspring or made some other arrangement, for there is no charge beside the item. Walton's Register for 1842 lists Kendall on Main Street in Windsor under the heading of "watches and jewelry" and in 1843 as a watch repairer and jeweler.
16
Advertised in the Spooner's Vermont Journal (Windsor VT), 22 Dec 1823, noting that he would clean and warrant plain watches for 50 cents (the price had not gone up for 12 years) and that he would repair and warrant horizontal, lepine, alarm, repeating and patent lever watches. He also noted that he would clean brass clocks and timepieces. He offered for sale English and French watches, watch trimmings, seals, keys, chains, gold rings, silver thimbles and a great variety of other articles. He could supply watchmakers with most kinds of watch furniture and materials at low prices. 16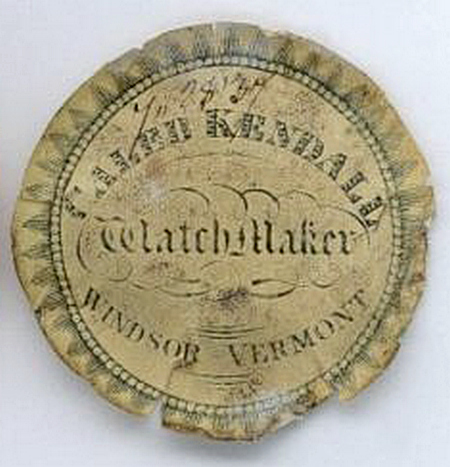 Watch paper, c 1825
Private Collection

Carlisle:, . 16 He was active in Windsor town affairs and held the office of town clerk for several years. When the village of Windsor was organized in January 1833, agreeable to the provisions of the act of incorporation, Caleb was chosen as treasurer.