Hannah Baldwin
Born: 1696, Milford CT

Christened: 6 Jan 1696, Milford CT

Marriage (1): Josiah Fowler on 6 Jan 1723 in Durham CT

Died: 10 Dec 1776
General notes:
Example
Events in her life were: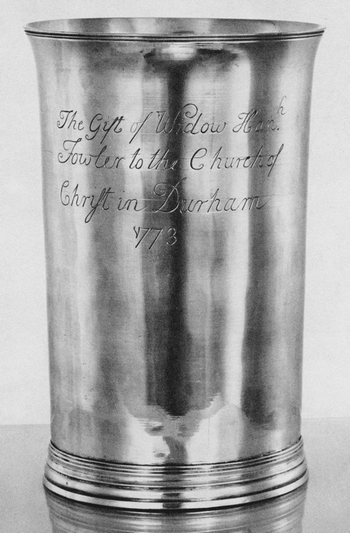 Beaker by Robert Fairchild, c 1773
Yale University 13
h: 5 5/8"
Engraved "The Gift of Widow Hanh / Fowler to the / Church of / Christ in Durham / 1773." Hannah Baldwin married Josiah Fowler, 1723. Her brothers Ezra and Noah also gave silver to this church and to the Plymouth Congregational Church at Milford CT.
Hannah married Josiah Fowler on 6 Jan 1723 in Durham CT. (Josiah Fowler was born on 20 May 1696 in Guilford CT and died on 7 Sep 1757 in Durham CT.)