Everardus Bogardus
Born: 4 Dec 1675, New York City NY

Christened: 4 Dec 1675, New York City NY

Marriage (1): Anna Dally on 3 Jun 1704 in New York City NY

Died: 8 Nov 1739, Kingston NY
General notes:
Silversmith
Events in his life were:
Made freeman of New York City NY, 5 Jul 1698. 8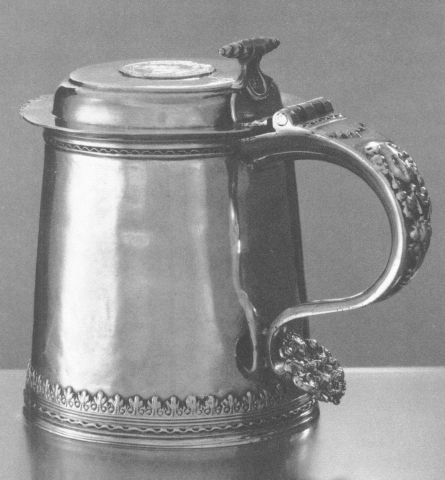 Tankard, c 1700-1710
Yale University 13
h: 6 5/8
d: 5 1/16
wt: 26 oz, 3 dwt
Engraved "L over I E" on cover for Johannes and Eytie de La Grange. The lid also has the mark of Henricus Boelen II.
Everardus married Anna Dally on 3 Jun 1704 in New York City NY. (Anna Dally was born about 1682 in New York City NY.)