Abraham Dubois
Born: 16 Nov 1738, Pittsgrove NJ

Marriage (1): Elizabeth Preston on 1 Dec 1761 in Pittsgrove NJ

Died: 23 Oct 1807, Philadelphia PA
General notes:
Silversmith
Events in his life were:


Advertised in the Pennsylvania Evening Post, 20 May 1777, announcing "Abraham Dubois has for sale at his house in Second street, four doors below Arch street, . . . some very neat gold and silver watches, neat gold lockets, and different kinds of silver work and jewellery." 4
He worked in 1785-1804 as a silversmith in Philadelphia PA listed in city directories. 4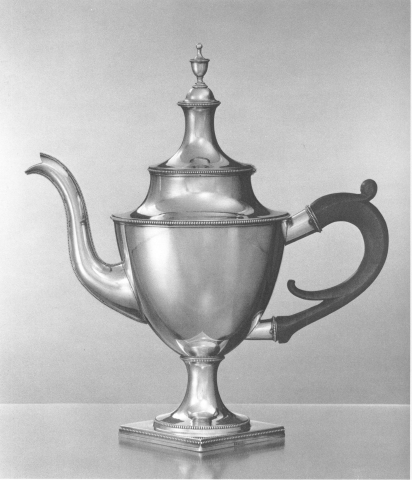 Teapot, c 1785-1795
Yale University 13
h: 11 3/8"
w: 3 3/8" (base)
wt: 26 oz, 3 dwt
Together with a matching creamer and sugar bowl, reputedly made for Aaron Burr.
He was a partner in 1805-1807 with Abraham Dubois in Philadelphia PA listed in city directories. 4
Philadelphia PA, 7 Nov 1807: will proved, in which he bequeathed all his silversmith tools to son Abraham. His business was continued until 1813 by his widow. 4
Abraham married Elizabeth Preston, daughter of Isaac Preston and Elizabeth Dare, on 1 Dec 1761 in Pittsgrove NJ. (Elizabeth Preston was born about 1740 in Ulster NY and died on 12 Jan 1812.)