Captain Myndert Schuyler
Born: 16 Jan 1672, Albany NY

Marriage (1): Rachel Cuyler on 26 Oct 1693 in New York City NY

Died: 21 Oct 1755, Albany NY
General notes:
Example
Events in his life were: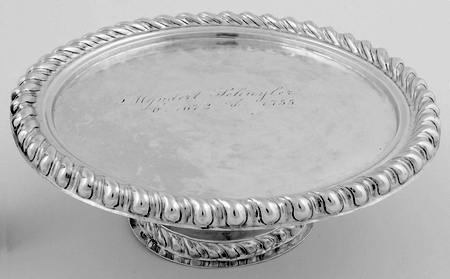 Salver by Jacobus Van Der Spiegel, c 1700
Winterthur Library 7
h: 2 7/8"
d: 8 3/16"
wt: 16 oz, 7 dwt
Engraved M + S for Myndert Schuyler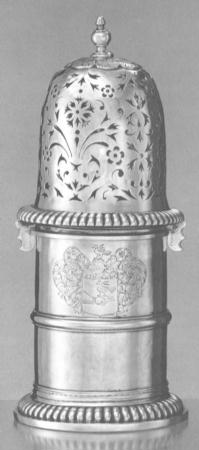 Caster by Peter Van Dyck, c 1705-1715
Yale University 13
h: 7 1/2"
d: 3 1/4" (base)
wt: 12 oz, 1 dwt
Engraved with the Schuyler family arms.
He signed a will on 27 Mar 1739.
In the name of God, Amen, March 27, 1739. I, MYNDERT SCHUYLER, of the city of Albany, considering the frailty of my body. I leave to my wife Rachel the use and income of all my estate during her life time. After her death, all the monies and bonds which I have at interest are to be continued, and my daughter, Anna De Peyster, is to have the interest during her life. After the death of my said daughter, I leave all my estate to her children, to wit, Anne and Rachel De Peyster, and such other children as it may please God to give to my said daughter, And they are to have my silver plate, bedding, and household stuff when of age. All my goods, rights, and credits are to be inventoried and entered in the Publick Records. I make my wife Rachel, and my daughter Anne, and her husband, John De Peyster, and Rutger Bleecker, Hendrick Cuyler, Jr., and Philip Schuyler, executors.

Witnesses, Abraham Cuyler, Nicholas Bleecker, John R. Bleecker.

Codicil, July 28, 1741:
Whereas my daughter Anne, wife of John De Peyster, hath since the making of my will procreated a son named Myndert Schuyler De Peyster, I give to him £30 after the death of my daughter, and one good silver tankard, to be made for him, And all my clothing, and my gun or fusee, and my sword with silver handle, for his prerogative as being my only grand son, And after the death of my daughter I leave to him and his sisters, Anne and Rachel, all my estate. After my wife's decease, all my shop goods and merchandise are to be sold at auction, and my executors are to be assisting and giving the best advice and council to my grand children.

Proved in Albany, before Goldsbrow Banyer, July 24, 1756. Confirmed by Sir Charles Hardy, Governor, August 16, 1756, and Letters of administration granted to John De Peyster and Anne Dow, formerly Anne De Peyster, and now wife of Volkert Pieterse Dow.


Myndert married Rachel Cuyler, daughter of Unknown and Unknown, on 26 Oct 1693 in New York City NY. (Rachel Cuyler was born in 1673 in New York City NY and died on 22 Jul 1747.)