George I. Welles
Born: 14 Jun 1784, Gilead CT

Marriage (1): Clarissa Gelston about 1810 in Boston MA

Died: 6 May 1827
General notes:
Silversmith
Events in his life were:
He worked in 1805 as a silversmith in Boston MA 8

He was a partner in 1806-1811 with Alfred Welles in Boston MA as A. & G. WELLES 14


He was a partner circa 1816-1825 with Hugh Gelston in Boston MA as GEORGE WELLES & Co and later WELLES, GELSTON, importers of jewelry and military regalia at 56 Cornhill.

He was a partner circa 1825-1827 with Hugh Gelston and Horace Porter in Boston MA as WELLES, GELSTON & PORTER.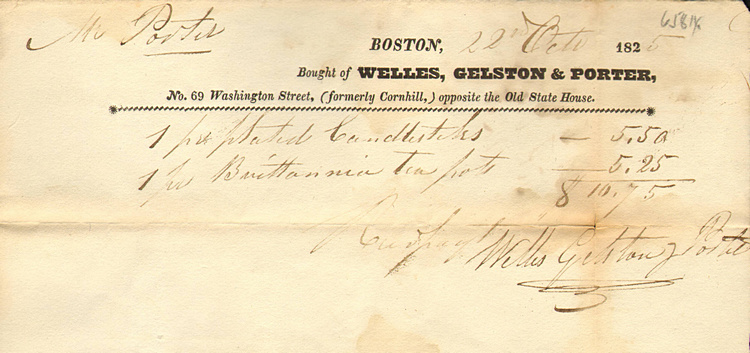 Invoice, 18 Oct 1825
Winterthur Library

George married Clarissa Gelston, daughter of William Gelston and Scena Sayre, about 1810 in Boston MA. (Clarissa Gelston was born about 1790 in East Haddam CT.)