Leroy W. Fairchild
General notes:
Manufacturer


A manufacturer of gold nibs, located in New York City; founded in 1837 as Randall & Fairchild, renamed Leroy W. Fairchild in 1843, and went through a series of name changes, including incorporation in 1890, until its foreclosure in 1895 over an issue of unpaid debts.
In 1851, Leroy Fairchild revolutionized nib manufacture by welding iridium tipping material to the gold nib instead of soldering it as had been done previously. His invention prevented corrosion by galvanic action between the solder and the tipping material and, in essence, created a nib that could last indefinitely. Fairchild is thought to have been the first supplier of nibs to L. E. Waterman.
In 1896, Fairchild's sons Leroy C., Harry P., and James C. Fairchild purchased all the tools and machinery of the defunct corporation and incorporated anew with themselves as directors. By 1897, the company had reincorporated again as the Leroy C. Fairchild Co., Inc., with Julia M. Fairchild, W. Clifford Moore, and Leonard S. Wheeler as directors and Leroy C. Fairchild as president.
Events in his life were: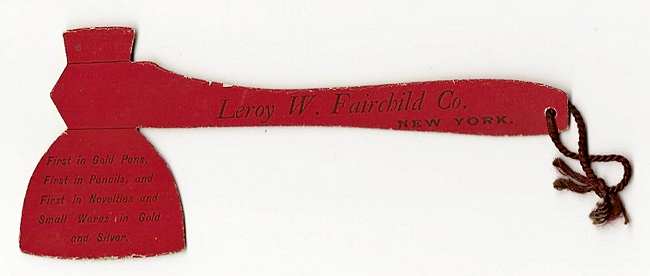 Advertising piece, c 1880
Private Collection

Leroy married Sarah Ann Cholwell on 23 Jan 1856.