Samuel Blodgett
Events in his life were: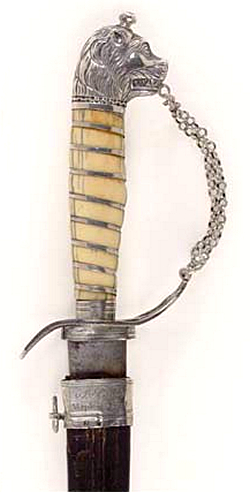 Sword and scabbard by John Bailey, c 1776
Private Collection
l: 33 1/4" (sword)
With ivory and silver-wire wrapped hilt. The underside of the quillon with maker's mark, Bailey; the steel blade marked ANDREA on one side and FERARA on the other with turbaned Moor's head touchmarks; the leather scabbard with upper silver mount engraved on the obverse, S. Blodget and on the reverse J. Bailey Verplank's Point; the lower silver mount engraved Capt. D. Jewell West Point 1778.