Philip De Forest Goeway
Born: 26 Oct 1838, Hartwick NY

Died: 28 Dec 1906, Albany NY
General notes:
Jeweler and watchmaker
Events in his life were:
Apprenticed in 1852 to Benjamin Marsh in Albany NY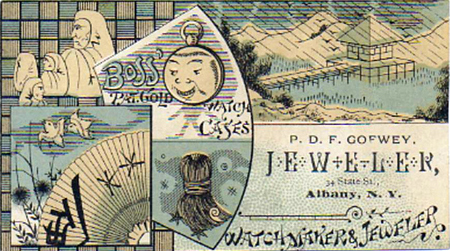 Trade card, c 1880
Private Collection

State of New York by Henry Kollock, 1882.
P. D. F. GOEWEY, Watches, &c, 34 State Street
"Many advantages contribute toward making Albany an important purchasing centre, and to accommodate the trade there are a number of enterprising business men who have established business houses to meet this demand, prominent among whom is Mr. P. D. F. Goewey, who is largely engaged at No. 34 State street in dealing in watches, clocks, jewelry, and diamonds, and in making a specialty in fine watch repairing. Mr. Goewey is a gentleman forty-four years of age, a native of Albany, and in his present enterprise for the last thirty-one years. He is doing a very handsome business of $75,000 a year, which is steadily increasing. By a close attention to the wants of his customers, a straightforward, honest way of doing business, and a cordial, polite manner, Mr. Goewey has made many friends in Albany and the surrounding country."