Henry Bosworth
Born: 12 Apr 1794, Westfield MA

Marriage (1): Mary Lovice Dickinson Snow on 27 Oct 1820 in Fredonia NY

Died: 3 May 1853, Fredonia NY
General notes:
Jeweler and watchmaker
Events in his life were: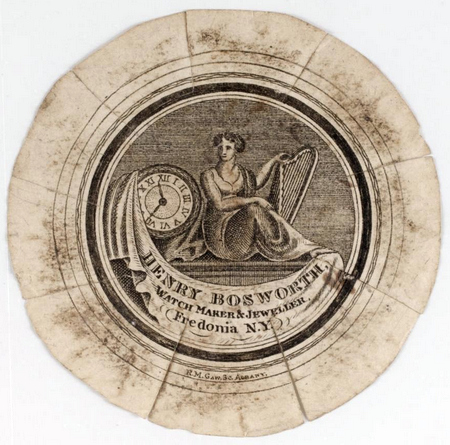 Watchpaper, c 1820
American Antiquarian Society

He appeared on the 1850 census taken at Pomfret, Chautauqua, NY, listed as a watchmaker. John Spelman, watchmaker, is also listed in his household.
Obituary printed in the New York Times (New York City NY) on 10 May 1853
"Maj. Henry Bosworth, of Fredonia, Chautauque Co., died on Tuesday 30th inst., aged 59. He established the first jewelry store in the county, at Fredonia, in June, 1817. As a citizen, he was highly esteemed."
Henry married Mary Lovice Dickinson Snow on 27 Oct 1820 in Fredonia NY. (Mary Lovice Dickinson Snow was born on 2 Nov 1799 in Wilbraham MA and died on 18 Dec 1823 in Fredonia NY.)