Martin Benedict
Born: Abt 1796, Prussia

Marriage (1): Sybil S. Burr about 1818

Died: 23 Oct 1871, Brooklyn NY
General notes:
Jeweler and watchmaker
Events in his life were:
, . American Watch Papers by Dorothea Spear, issue by the American Antiquarian Society in 1951, lists Martin Benedict as born Aug. 20, 1797, son of Jared and Sarah (Bouton) Benedict of Sherburne, NY, quoting Henry M. Benedict in Genealogy of the Benedicts, 1870. This is in error, as that Martin, a farmer, is found reliably in Sherburne census and other records at the time Benedict was working in New York City. It is much more likely that this Martin Benedict, who, along with his wife Sybil and various of their children, is buried in Brooklyn's Green-Wood Cemetery, is the watchmaker and jeweler.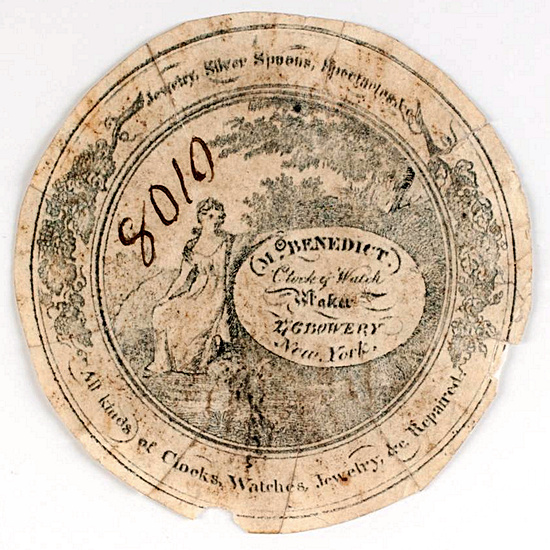 Watch paper, c 1830
American Antiquarian Society

He was a partner in 1839-1845 with Bela Scoville Squire in New York City NY as BENEDICT & SQUIRE, with a shop at 276 Bowery.
Martin married Sybil S. Burr about 1818. (Sybil S. Burr was born about 1798 in Marlboro NY and died on 16 Jan 1863 in Brooklyn NY.)