George Emlen
Born: 25 Apr 1741, Philadelphia PA

Marriage (1): Sarah Fishbourne on 1 Feb 1775

Died: 23 Nov 1812
Events in his life were: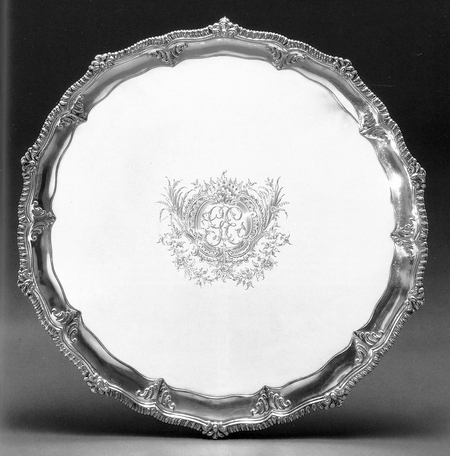 Salver by Richard Humphreys, c 1775
Private Collection
d: 16 1/2"
wt: 47 oz
Engraved with a monogram G E in a rococo cartouche. The style and quality of the engraving is nearly identical to that on Humphreys' Tompson urn of 1774, suggesting that this piece was also engraved by James Smithers. In addition to this piece, Emlen also ordered a coffeepot, a tankard, three sauce boats, a pair of canns, and a 7 1/4" waiter.

George married Sarah Fishbourne on 1 Feb 1775. (Sarah Fishbourne was born on 11 Sep 1755 in Philadelphia PA and died on 29 Aug 1823.)