John H. Whitlock
Born: Oct 1811, New Haven CT

Marriage (1): Sarah Sage Huntington on 30 Nov 1831 in Troy NY

Died: 7 Jul 1866, Glens Falls NY
General notes:
Pewtersmith
Events in his life were:
He was a partner in 1848-1849 with Joshua Bradley Graves in Troy NY as GRAVES & WHITLOCK at 6 River Street.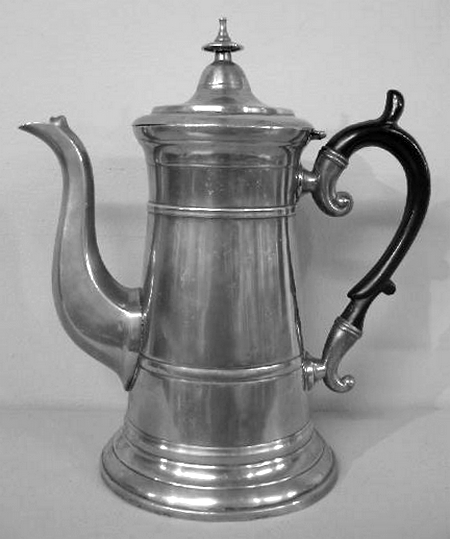 Coffeepot, c 1850
Private Collection
h: 11"
Transactions of the New York Agricultural Society, 1852.

"Lot of cast turned and engraved white metal Brittania ware, John H. Whitlock, Troy. Your committee's eyes were greatly dazzled when called upon to examine this ware. Visions of services of plate regally engraved and inscribed floated through our brains. Great then was our astonishment when we found that the beautiful material before us was but brittania. We strongly advise our friend Whitlock of Troy, to re-name his beautiful wares in order that his friends and customers may not be so greatly astonished. Seriously however, your committee have yet to see any thing that contributed more to the show of beautiful articles than this self same ware. Its silvery whiteness and astonishing strength proclaim it of the purest metal composition, while its elegant shapes and magnificent engraving vie strongly with the rich silver services of a "Ball & Black," or others of our silver services manufacturers. It was beautiful, and your committee were pleased, and award a Diploma and Large Silver medal."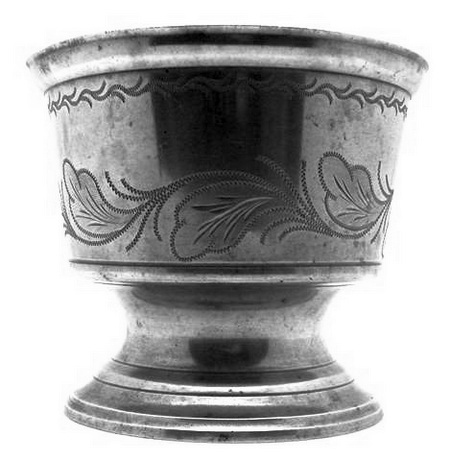 Sugar bowl, c 1855
Private Collection
h: 4 3/8"
John married Sarah Sage Huntington on 30 Nov 1831 in Troy NY. (Sarah Sage Huntington was born about 1805 in Middletown CT.)