James Russell Ayres
Born: 20 Sep 1819, Pound Ridge NY

Marriage (1): Eliza Marshall on 8 Oct 1840 in Waterbury CT

Died: 17 Feb 1889, Waterbury CT
General notes:
Jeweler and watchmaker
Events in his life were:

He was a partner (presumed) circa 1845 with Andrew Hanford in Peekskill NY as HANFORD & AYRES. While the firm is unrecorded, these are the only two men working in the same city at this time.
Advertised in the Bangor Daily Whig and Courier (Bangor ME), 18 May 1861, as part of a group endorsement of the Waltham Watch Company.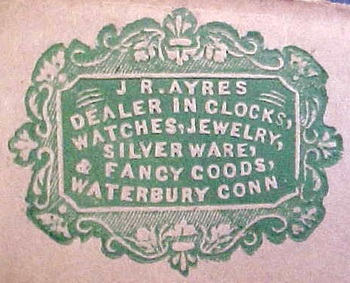 Envelope cameo, c 1870
Private Collection

James married Eliza Marshall on 8 Oct 1840 in Waterbury CT. (Eliza Marshall was born on 1 Aug 1822 in Stamford CT and died on 5 Jul 1879 in Orange CT.)