George Doty
Born: 6 Oct 1815, Canandaigua NY

Died: 29 Aug 1906, Detroit MI
General notes:
Jeweler and watchmaker
Events in his life were:
He worked circa 1837-1880 as a jeweler and watchmaker in Detroit MI
His family had come to Detroit in 1826. When of age, he apprenticed to the jeweler's trade in Buffalo NY. He is recorded as a watchmaker in Buffalo c 1835, but he had returned to Detroit by 1837, when he fought in the Canadian Rebellion on the side of the patriots.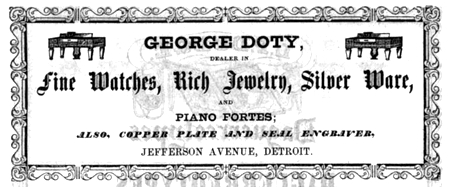 Advertised in the Johnston's Detroit Directory and Business Advertiser (Detroit MI), 1853,