John Lyon Gardiner
Born: 8 Nov 1770, East Hampton NY

Marriage (1): Sarah Griswold on 4 Nov 1803

Died: 22 Nov 1816
General notes:
Example
Events in his life were: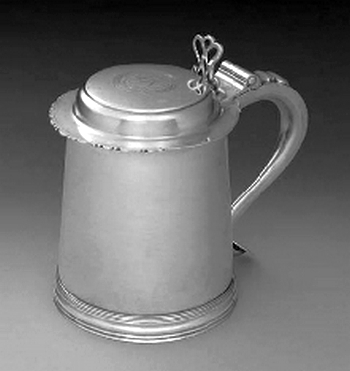 Tankard by Elias Pelletreau, 1791
Private Collection
h: 7 1/4"
wt: 35 oz.
Engraved JLG in a circular cartouche. The tankard, along with other silver ordered by Gardiner, is recorded in Pelletreau's account book, dated April 2, 1791, and indicates the weight as 35 oz. 7 dwt. 12 gr. A corresponding entry, dated April 22, 1791, in Gardiner's account book confirms the purchase of this tankard. In 1802, Gardiner commissioned a pair of porringers from John Pelletreau.
John married Sarah Griswold on 4 Nov 1803. (Sarah Griswold was born on 12 Aug 1781 in Old Lyme CT and died on 10 Feb 1863.)