Henry Salisbury
Born: 10 Sep 1799, Hartford CT

Marriage (1): Lucretia Abell on 5 Nov 1830

Died: Dec 1863
General notes:
Silversmith, jeweler, and watchmaker
Events in his life were:


He worked circa 1830-1860 as a jeweler in New York City NY from a shop at 171 Broadway. 18
He was a partner in 1834-1835 with Charles Brewer in New York City NY as BREWER & SALISBURY.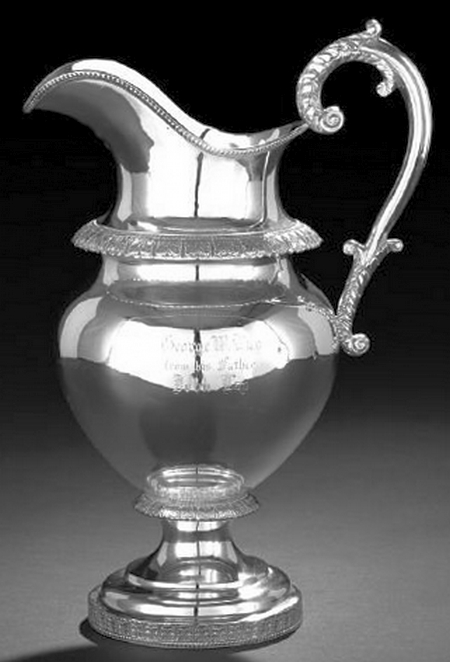 Pitcher
Private Collection
h: 12 7/8"
d: 5 1/2" (of base)
wt: 33.37 oz
Engraved "George W. Lay / from his Father / John Lay"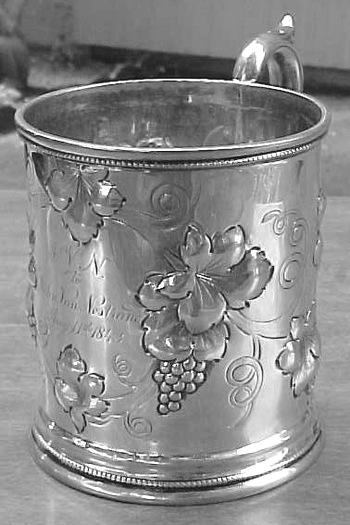 Mug, 1843
Private Collection
h: 4"
dia: 3"
Engraved JVN / to / John Van Nostrand, / Aug 11th, 1843
Henry married Lucretia Abell on 5 Nov 1830. (Lucretia Abell was born on 1 May 1804 in Griswold CT and died on 13 Feb 1835.)