Edward Mills
Events in his life were: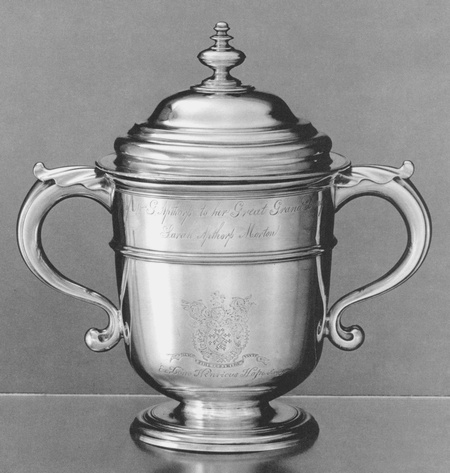 Covered cup by Peter Fuert, c 1727
Yale University 27
h: 8 15/16"
d: 4 1/16"
wt: 39 oz
Engraved with the Mills of Harscombe arms in an acanthus and scroll cartouche on one side and the Hope of Hopetoun arms on the other. This is the ". . . silver cup with his coat of arms and mine engraved thereon" left to Henry Hope in Mills' will of 1732. This is one of only three known peices by Fuert.
He signed a will on 24 May 1732. Will of Edward Mills Jr. of Placentia, Newfoundland, now residing at Charlestown, merchant, being bound on a voyage to sea. To be buried at east end of church called King's Chapel in Boston where my father has a vault near the dust of my mother. To Mrs. Mary Rous widow of Capt. William Rous £200 & some necessaries for keeping house. To my God children Hannah Trecothick, John Rous, Woodward Abraham & Mary Abraham each a silver spoon, bible & prayer book. To Edward Trecothick, same. To Henry Hope Esq. my silver hilted sword, gun & case of pistols & a silver cup with his coat of arms and mine engraved thereon. To Sarah Willard a silver spoon & porringer & £15 to buy her mourning apparel. To said Mary Rous my silver porringer which Capt. Robert Kirwan gave me, also two silver spoons. To Charles Apthorp my silver enush box, silver spurrs & my punch ladle and soop spoon. To John Merritt my salver, pepper box & mustard pott with my reading glass.
To John Mills a ring. To Jonathan Mills, a teacher at Bellingham all my books both historical and religious. Whereas my grandfather Nathaniel Cary of Charlestown, by will left me either houses, lands etc. in Charlesto wn & elsewhere, they are to be divided between Mary wife of Wigglesworth Sweetser, Hannah Cary, Elizabeth Cary & children of Martha wife of Steph en Hall which she had by Abraham Hill.
To my uncle Nathaniel Mills of Braintree £10 per annum paid out of the income of my father Edward Mills estate. To my aunt Melville £15 per annum. All residue to my uncle John Mills sons, viz. John & Jonathan and to my uncle Nathaniel Mills two sons equally, but if I die before my father Edward, all to him & at his disposal except the legacy to Mrs. Rous. To friend Jacob Wendell two large pictures hanging in my room, also a silver tankard. To John Wendell a pair of silver salts.

Jacob Wendell Esq., Charles Apthorp & Henry Hope Esq. executors
Witnesses: Thomas Taylor, Edward Tyer, William Francklyn.
Will probated 1 June 1733