Susanna Lincoln
Born: 19 Jun 1757, Hingham MA

Marriage (1): John Lewis on 12 Feb 1780 in Boston MA

Died: 8 May 1826, Cohasset MA
Events in her life were: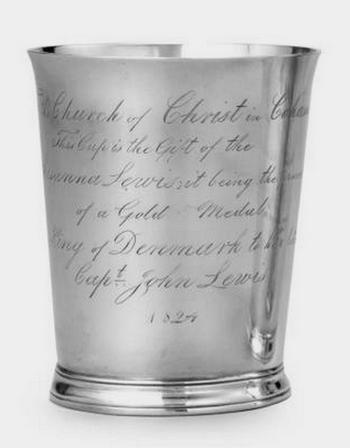 Cup by Nathan Hobbs, 1824
Private Collection
h: 4 1/8"
w: 11 oz, 10 dwt (the pair)
One of a pair, engraved "To the Church of Christ in Cohasset / This Cup is the Gift of the widow / Suzanna Lewis, it being the / proceeds of a Gold Medal, / from the King of Denmark to her late husband / Capt John Lewis. / 1824"
A second pair of cups by Hobbs were given to the church in 1843 by her sister, Rebecca, widow of Levi Towner, who also recieved a gold medal.
The "gold medal from the King of Denmark" which paid for these beakers was a recognition of one of the most noted shipwrecks on the Cohasset coast. On February 12, 1793, the Giertrude Maria was wrecked on a group of rocks called Brush Island. Of 400 tons, with a cargo estiamted at 40,000, she was on her way from Copenhagen to Boston. As the ship broke up, the sailors took refuge on the island. One was drowned trying to brave the surf, but the twenty-one others were rescued the next day by Cohasseters in small boats broght for the purpose. The townsfolk also managed to salvage a portion of the cargo, and provided a vessel for the sailors to continue to Boston. On the Captain's return to Denmark, his account inspired the Danish king , Christian VII, and the College of Commerce to award four gold medals and ten silver ones, with the King's likeness and the legend in Danish, "Reward of Merit - Noble Deeds."
Susanna married John Lewis on 12 Feb 1780 in Boston MA. (John Lewis was born about 1753 in Hingham MA and died in 1805.)