Herman Marcus
Born: 25 Dec 1828, Germany

Marriage (1): Margaret Elder on 16 Apr 1856 in New York City NY

Died: 18 Oct 1899, New York City NY
General notes:
Jeweler
Events in his life were:

He was a partner in 1864-1877 with Theodore Burr Starr in New York City NY as STARR & MARCUS, with a shop at 22 John Street. The firm was the exclusive retail outlet for Gorham silver in New York.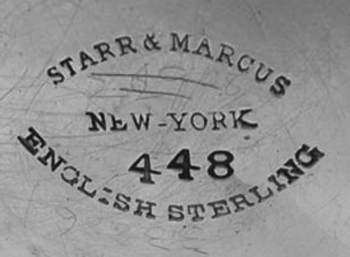 He worked in 1877-1884 as a jeweler in New York City NY again for the firm of TIFFANY & Co, who announced in various publications:
"Tiffany & Co. Union Square Respectfully Announce to the Public that they have Associated with them in Business Mr. Herman Marcus, of the late Firm of Starr and Marcus, which firm was dissolved by mutual consent on the 1st day of June last."
Herman married Margaret Elder on 16 Apr 1856 in New York City NY. (Margaret Elder was born on 12 Jun 1825 in Scotland.)