William Curtis Barnes
Born: 22 Feb 1825, Arcadia NY

Died: 27 Feb 1905, Southbridge MA
General notes:
Jeweler
Events in his life were:
He was a partner circa 1850 with Sylvester Dresser in Southbridge MA as DRESSER & BARNES. He began as an employee, was admitted partner, and then bought out Dresser in 1852.
He appeared on the 1850 census taken at Southbridge MA, listed as a clerk, living in the home of his future partner, Sylvester Dresser.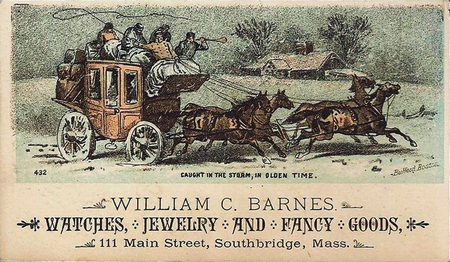 Tradecard, c 1880
Private Collection