Horace Partridge
Born: 27 May 1822, Norwich MA

Marriage (1): Martha Ann Stratton on 17 Jun 1847 in Gill MA

Died: 26 Apr 1902, Cambridge MA
General notes:
Jeweler and merchant
Events in his life were:
He worked circa 1855-1880 as a jeweler and fancy goods merchant in Boston MA
Listed in city directories at 125 and 127 Hanover Street (1855), 27 Hanover (1860-1870), and 51 and 53 Hanover (1872-1875).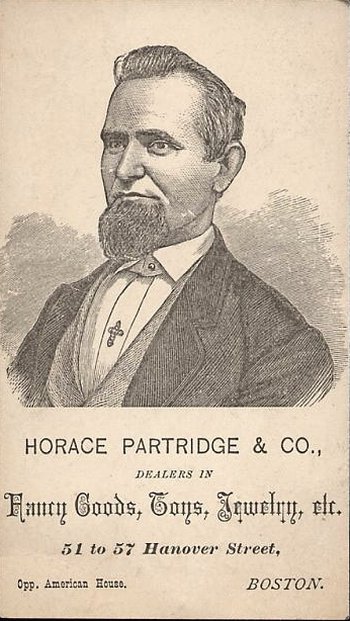 Tradecard, c 1870
Private Collection

He appeared on the 1870 census taken at Boston MA, listed as a merchant. His partner, Benjamin Hunt, was also living in his household.
Horace married Martha Ann Stratton on 17 Jun 1847 in Gill MA. (Martha Ann Stratton was born on 21 Mar 1825 in Gill MA and died on 26 Feb 1894 in Cambridge MA.)