Jeremiah Moulton
Born: 1688, York ME

Marriage (1): Mrs. Hannah Moulton in York ME

Died: 20 Jul 1765, York ME
General notes:
Example

When York was destroyed by the Indians in 1692, Moulton was carried into captivity, but with other children was returned after the release by Benjamin Church of some Indian women and children. He took an active part in the conflicts between the English settlers and the eastern Indians in Queen Anne's war. In 1722 he led an expedition against the village of Norridgewock, and, finding it deserted, carried off the papers of Sebastian Rale, but left the church and houses standing. On 23 August, 1724, he attacked the village with 200 men. The Indians were taken by surprise and tried to escape across Kennebec river, but were killed in the water, not more than fifty reaching the other shore. The English slew many of the women and children and shot Father Rale, who came out of his cabin to expostulate, notwithstanding Moulton's orders that his life be spared. The village and chapel were demolished, and the Norridgewock Indians were never heard of more. In 1745 Colonel Moulton commanded a regiment at the reduction of Louisbourg. He was subsequently sheriff, a member of the council, judge of common pleas, and probate judge.
Events in his life were: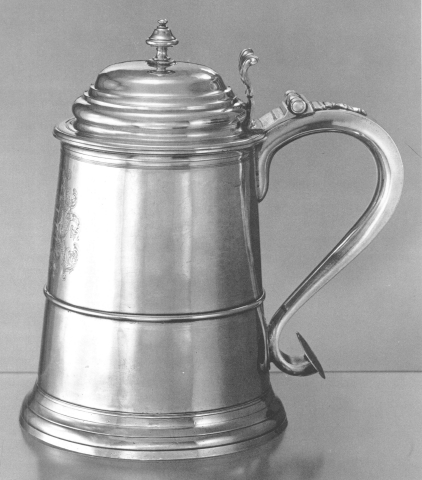 Tankard by John Burt, c 1745
Yale University 13
h: 8 1/4"
d: 5 7/16" (base)
wt: 25 oz, 4 dwt
Engraved on front with Moulton arms, "M over I H" on handle, and a map of Louisburg, Taken by the English / June 17, 1745 on handle terminal. By tradition, given to Jeremiah Moulton by Sir William Pepperell for his part in the capture of Louisburg.
Jeremiah married Mrs. Hannah Moulton in York ME. (Mrs. Hannah Moulton was born about 1690 in York ME and died in 1760.)