John Danforth May
Born: 17 Oct 1848, Winthrop ME

Marriage (1): Clara M. Healey on 15 Jan 1871
General notes:
Jeweler
Events in his life were:
He was a partner circa 1870-1885 with Edward R. Spear in Rockland ME as SPEAR & MAY with a shop at 247 Main Street. Though primarily booksellers and stationers, the firm also sold watches and jewelry.
He appeared on the 1870 census taken at Rockland ME, listed as a bookseller, living in the home of his partner.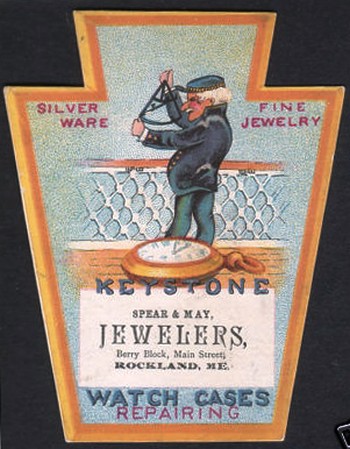 Tradecard, c 1880
Private Collection

John married Clara M. Healey on 15 Jan 1871. (Clara M. Healey was born on 26 Jul 1850 in Rockland ME.)