Najah Taylor
Born: 31 Oct 1769, Danbury CT

Marriage (1): Susan Carrington before 1807 in Danbury CT

Died: 23 Mar 1860, Brooklyn NY
General notes:
Silversmith
Events in his life were:
Apprenticed circa 1783 to Eli Mygatt in Danbury CT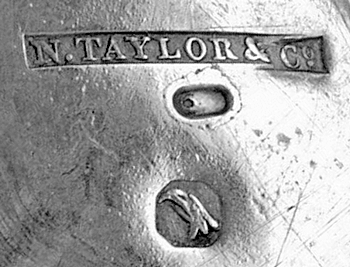 He worked in 1808-1817 as a silversmith in New York City NY as N. TAYLOR & Co, with a shop at 88 Broadway. The building, formerly owned by William Garret Forbes, was purchased by Naylor in 1809. The mark shown includes the eagle head erased manufacturer's mark attributed to William Seal. 18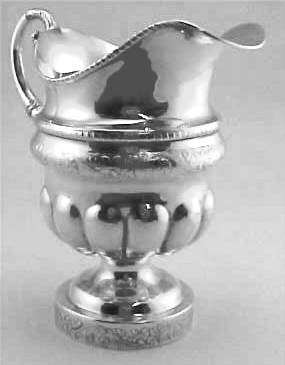 Creamer, 1816
Private Collection
h: 6 1/2"
wt: 11 1/2 oz
An identical creamer marked by John Gaither is illustrated in Three Centuries of Alexandria Silver.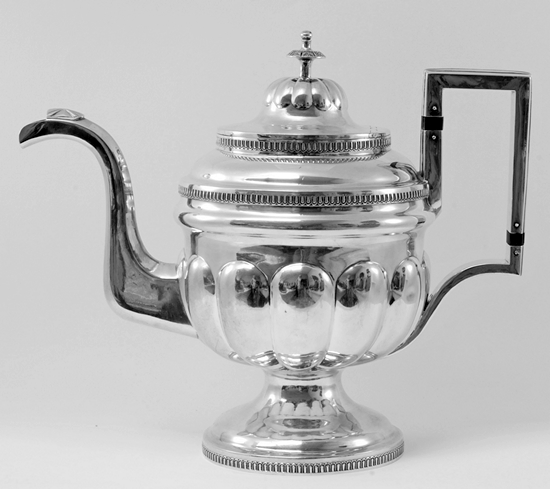 Teapot, c 1820
Private Collection
h: 11"
Najah married Susan Carrington, daughter of Daniel Noble Carrington and Mabel Warner, before 1807 in Danbury CT. (Susan Carrington was born on 22 Sep 1783 in Danbury CT.)