Josiah Quincy
Born: 1 Apr 1710, Braintree MA

Marriage (1): Hannah Sturgis on 11 Jan 1732 in Yarmouth MA

Died: 1784, Braintree MA
General notes:
Example
Events in his life were: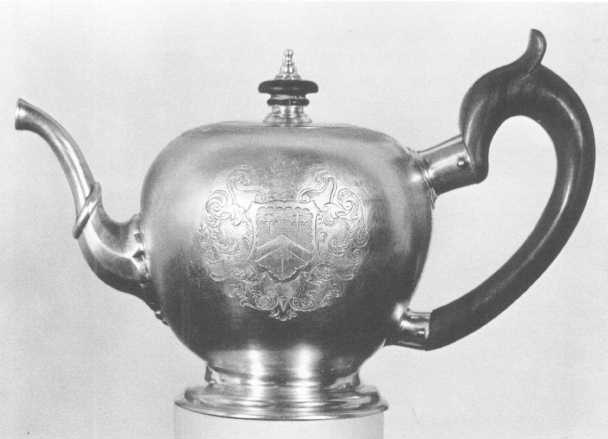 Teapot by Jacob Hurd, 1730-1735
Museum of Fine Arts, Boston 10
h: 5"
d: 3 3/16" (base)
wt: 13 oz, 9 dwt
The teapot appears on a list of plate taken October 1st, 1785, belonging to Ebenezer Storer, Jr.: "a Tea Pott Jacob Hurd 12 oz Sturgis arms." The discrepancy in weight is explained by the fact that the wooden handle is included in our weight. On the list there were also spoons engraved HQ and others with "The Crest of Quincy" indicating that the teapot belonged to Josiah (1709-1784) and Hannah (Sturgis) Quincy. Ebenezer's second wife, whom he married in 1777, was their daughter, the widow Hannah (Quincy) Lincoln. The youngest of his children by this second marriage was Susanna, who married Rev. Asa Eaton (1778-1858), Minister of Christ Church, Boston from 1803 to 1829. They were grandparents of William S. and his sister Georgiana G. Eaton. The cartouche is the same design that Hurd used on the Townsend-Mason teapot (Yale University Art Gallery, Garvan Collection), dated 1738.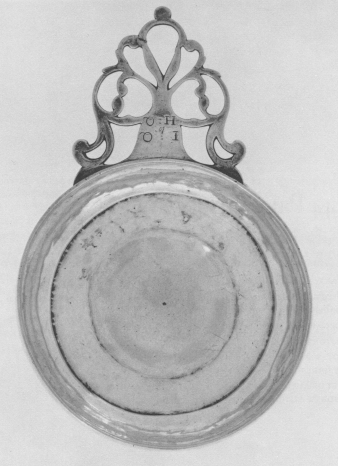 Porringer by William Holmes, c 1740-1770
Museum of Fine Arts, Boston 10
h: 1 3/8"
d: 4" (lip)
l: 2 1/8" (handle)
wt: 3 oz, 16 1/2 dwt
Engraved I-Q / to / H-Q
Given by Josiah Quincy to his daughter-in-law Hannah, wife of Samuel Quincy or their daughter Hannah Quincy.
Josiah married Hannah Sturgis on 11 Jan 1732 in Yarmouth MA. (Hannah Sturgis was born on 1 Jan 1712 in Yarmouth MA and died on 9 Aug 1755 in Yarmouth MA.)