Hervey Manning Richards
Born: 11 Jul 1812, Attleboro MA

Marriage (1): Juline Capron on 3 Jun 1833 in Attleboro MA

Died: 19 Jul 1886
General notes:
Jeweler
Events in his life were:
Apprenticed circa 1826 to Ira Richards in Attleboro MA

He was a partner circa 1830-1833 with George Morse in Attleboro MA as MORSE & RICHARDS.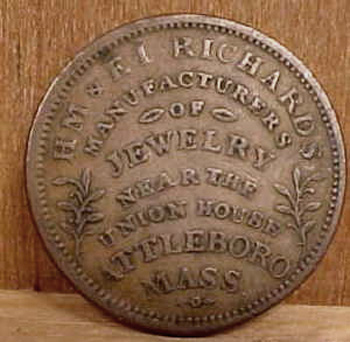 Trade token, 1834
Private Collection

He worked in 1843-1862 as a jeweler in Attleboro MA
He also maintained a sales office in New York City at 157 Broadway in the 1850s.
He appeared on the 1850 census taken at Attleboro MA, listed as a jeweler, living in his brother-in-law's household.
Hervey married Juline Capron, daughter of David Capron and Polly Eaton, on 3 Jun 1833 in Attleboro MA. (Juline Capron was born on 18 Aug 1814 in Attleboro MA and died on 27 Apr 1856.)