Benjamin Goddard
Born: 15 May 1813, Roxbury MA

Marriage (1): Martha Doliver

Died: 4 Aug 1870, Worcester MA
General notes:
Jeweler and watchmaker
Events in his life were:

He worked circa 1835-1870 as a jeweler in Worcester MA
Initially as a journeyman in his master's shop. By 1845, he advertised on his own as "Late of the firm of D. GODDARD & Co." Listed in the 1845 city directory at 168 Main Street and 174 Main in 1853.
He appeared on the 1860 census taken at Worcester MA, listed as a jeweler. Noah Allen Plympton, age 18, is also listed in the household as a jeweler.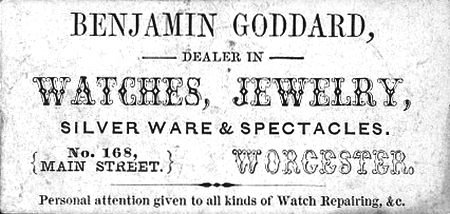 Tradecard, c 1870
Private Collection

Benjamin married Martha Doliver. (Martha Doliver was born on 8 Jul 1813 in Worcester MA and died on 2 Sep 1894 in Worcester MA.)