John Schenck Denyse
Born: Abt 1775, Freehold NJ

Marriage (1): Catherine Thompson on 3 Feb 1819 in New York City NY

Died: Freehold NJ
General notes:
Silversmith
Events in his life were: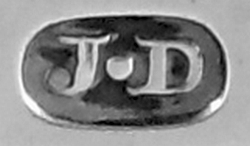 He worked circa 1795 as a silversmith in New York City NY 18

He was a partner circa 1800 with Teunis Denyse in New York City NY as JOHN & TUNIS DENYSE. 18

Alternate Mark attributed to J & T DENYSE. This mark may actually be that of JOSEPH & TEUNIS DENYSE DUBOIS.
John married Catherine Thompson on 3 Feb 1819 in New York City NY. (Catherine Thompson was born on 1 Apr 1800 in Freehold NJ and died on 19 Apr 1879.)