Joseph Cornelius Blauvelt
Born: 28 Apr 1797, Tappan NY

Christened: 21 May 1797, Tappan NY

Marriage (1): Margaret Blanch

Marriage (2): Rachel Howard on 15 Dec 1821

Died: 29 Aug 1879, New City NY
General notes:
Silversmith
Events in his life were: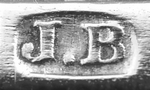 He worked circa 1820-1840 as a silversmith in New York City NY
In 1819, he had received the working tools of his uncle, Benjamin Wood. 18
Joseph married Margaret Blanch. (Margaret Blanch was born in Jul 1801 and died on 26 Feb 1878.)
Joseph next married Rachel Howard on 15 Dec 1821.