Gilbert Rogers
Born: 4 Jul 1838, Old Saybrook CT

Marriage (1): Estelle Victorine Rogers on 6 Feb 1867
General notes:
Silverplater
Events in his life were:
He was a partner in 1866-1903 with Cephas and Wilbur Rogers in Meriden CT as C. ROGERS & BROS. The brothers bought the stock of James Frary who had died in December 1865. The company specialized in furniture and casket fittings. It was bought by International Silver. 12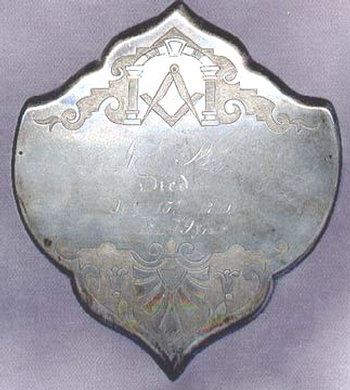 Casket plate by C. ROGERS & BROS., c 1870
Private Collection
Engraved "Joel Page. Died July 15, 1870. Age 79 years."
Gilbert married Estelle Victorine Rogers, daughter of Julius Wilbur Rogers and Esther Elizabeth Culver, on 6 Feb 1867. (Estelle Victorine Rogers was born on 23 Nov 1845 and died on 10 Jan 1917.)