Nathaniel Bushnell
Born: 14 Nov 1793, Old Saybrook CT

Marriage (1): Nancy Curtis on 30 Apr 1820

Died: Jan 1854, Cromwell CT
General notes:
Manufacturer
Events in his life were:
He worked circa 1825-1850 as a manufacturer of spectacles, combs, and metal novelties in Middletown CT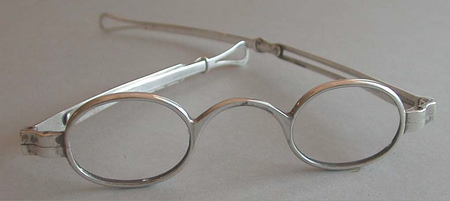 Spectacle frames, c 1825
Private Collection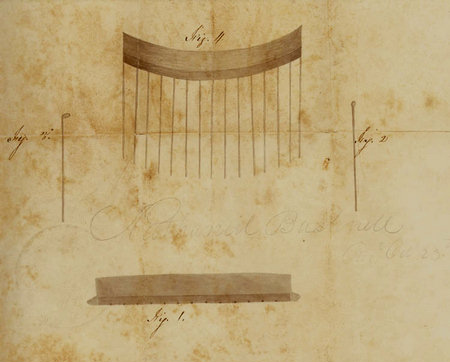 Patent drawing, 31 Oct 1835
Private Collection
For the invention of a metallic hair comb made of tin and iron wire and painted to look like tortoise shell.

The document reads in part: "Whereas Nathaniel Bushnell, a citizen of the United States, hath alleged that he has invented a new and useful improvement In the Metallic Hair Comb which improvement he states has not been known or used before his application; hath made oath that he does verily believe that he is the true inventor or discoverer of the said improvement...."

Decorative combs, most of which were manufactured in New England at the time, were commonly made of tortoise shell, ivory or horn. Bushnell states that his improvement is inexpensive to manufacture and non-injurious to hair. His comb would be made of tin and iron wire and painted to look like tortoise shell. Interestingly, in 1868 a Wappingers Falls, N.Y. factory was permitted to produce "enamelled metallic combs". Their decorations were perhaps intended to rival the charms of another metal comb, of lead, which was supposed to "turn grey hairs and whiskers to the original color." Bushnell's description, in part: "I Nathaniel Bushnell of Middletown...State of Connecticut have invented a new & useful improvement in the manufacture of Ladies Hair Comb...the best material are tin for the top of the Comb and iron wire for the teeth...The top and the teeth are painted in imitation of tortoise shell or any other colour & varnished three or more times, or may be ornamented in any other pleasure...The advantages by which this comb is distinguished...First the lightness strength & durability of the materials. Second the manner in which the parts are put together & secured & shaped to a regular & even curve. Third the manner in which the end teeth are inserted and secured - Fourth, the fact the teeth do not injure the hair - Fifth the cheapness of the comb compared with its usefullness and durability...What I claim as my own invention...is the manner in which the two end teeth are inserted & secured...and the manner in which the other teeth are inserted and secured...Figure 1 in the annexed drawing represents the top of the comb prepared for inserting the teeth - Figure 2 the teeth other than the end teeth Fig 3...the end teeth - Fig 4...the comb complete for painting or ornamenting...."
Nathaniel married Nancy Curtis on 30 Apr 1820. (Nancy Curtis was born on 19 Aug 1792 in Farmington CT and died on 5 Jan 1854 in Cromwell CT.)