Dwight Hawley Buell
Born: 11 Nov 1833, Hartford CT

Died: 18 Feb 1889, Hartford CT
General notes:
Silversmith and jeweler
Events in his life were:
He worked in 1852-1857 as a silversmith, jeweler, and watchmaker in Hartford CT 4
He was a partner in 1858-1861 with Thomas H. Steele in Hartford CT as T. STEELE & Co. 4

He worked in 1862-1865 as a silversmith, jeweler, and watchmaker in Hartford CT as D. H. BUELL & Co. 4

He was a partner in 1866-1874 with Charles J. Wood in Hartford CT as D. H. BUELL & Co. 4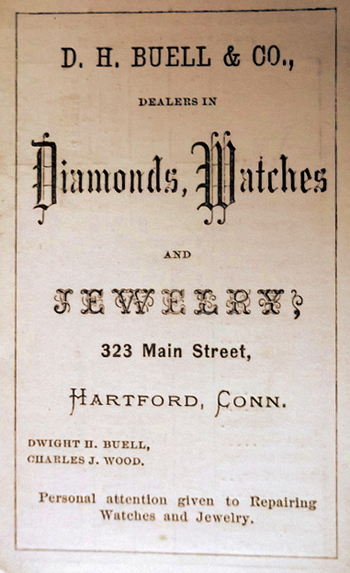 Tradecard, 1873
Private Collection

, . "Ten or eleven years ago Dwight Buell, a jeweler, called at our house and was shown up to the billiard-room, which was my study; and the game got more study than the other sciences. He wanted me to take some stock in a type-setting machine. He said it was at the Colt's Arms factory, and was about finished. I took $2,000 of the stock. I was always taking little chances like that, and almost always losing by it, too. Some time afterward I was invited to go down to the factory and see the machine. I went, promising myself nothing, for I knew all about type-setting by practical experience, and held the settled and solidified opinion that a successful type-setting machine was an impossibility, for the reason that a machine cannot be made to think, and the thing that sets movable type must think or retire defeated. So, the performance I witnessed did most thoroughly amaze me. Here was a machine that was really setting type, and doing it with swiftness and accuracy, too. Moreover, it was distributing its case at the same time. The distribution was automatic; the machine fed itself from a galley of dead matter and without human help or suggestion, for it began its work of its own accord when the type channels needed filling, and stopped of its own accord when they were full enough. The machine was almost a complete compositor; it lacked but one feature—it did not "justify" the lines. This was done by the operator's assistant.
I saw the operator set at the rate of 3,000 ems an hour, which, counting distribution, was but little short of four casemen's work. William Hamersley was there. He said he was already a considerable owner, and was going to take as much more of the stock as he could afford. Wherefore, I set down my name for an additional $3,000. It is here that the music begins."

Chapter CLXXIV: "THE MACHINE"
Mark Twain: A Biography

The Paige typesetter proved a complete financial disaster for all involved, especially Twain.
He worked in 1875-1885 as a silversmith, jeweler, and watchmaker in Hartford CT
Listed in the 1875 city directory at 323 Main Street. 4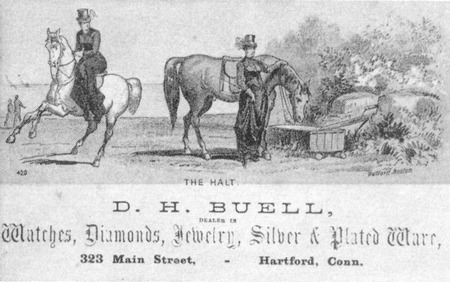 Tradecard, c 1875
Private Collection