James Madison Barlow
Born: 9 Jul 1812, Georgetown KY

Marriage (1): Elizabeth Barlow on 24 Jun 1835 in Georgetown KY

Marriage (2): Susannah Mott on 17 Nov 1852 in Salt Lake City UT

Marriage (3): Electa Mott on 5 Feb 1856 in Salt Lake City UT

Died: 8 Feb 1893, Salt Lake City UT
General notes:
Silversmith, jeweler, and watchmaker
Events in his life were:
He worked circa 1835-1849 as a silversmith in Georgetown KY 5
He worked circa 1850-1880 as a silversmith, jeweler, and watchmaker in Salt Lake City UT
Apparently having succumbed to gold fever, he abandoned his wife and child and left overland for California. Stopping in Salt Lake City, he was convinced to stay and practice his trade by Brigham Young. 12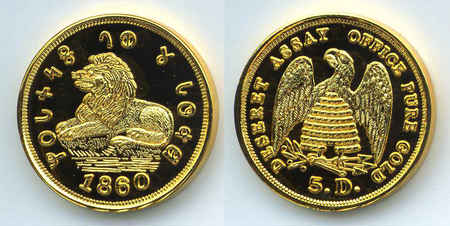 Salt Lake City UT, 1860: at the request of President Brigham Young, Barlow made a new set of dies for $5.00 gold pieces. Barlow was on his way to California and stopped off in Salt Lake City where Brigham Young urged him to stay and join the Mormons. He was assisted by Dougall Brown. The design was more artistic than that of the former coins. On the face of the coin were three mountain peaks which formed the background, a stream of water in the foreground and a lion in the center. Around the rim was 1860 Holiness to the Lord, written in the characters of the Deseret alphabet. The reverse side pictured an eagle with a beehive on its breast and an olive branch and arrows in its talons. Around the edge was the Deseret Assay Office, Pure Gold. It is estimated that only a little more than $1,000 was coined.

James married Elizabeth Barlow, daughter of Thomas Harris Barlow and Keziah West, on 24 Jun 1835 in Georgetown KY. (Elizabeth Barlow was born about 1815 in Flemingsburg Fleming KY.)
James next married Susannah Mott, daughter of Unknown and Unknown, on 17 Nov 1852 in Salt Lake City UT. (Susannah Mott was born on 16 Sep 1830 in Bethany NY and died on 4 Dec 1886 in Salt Lake City UT.)
James next married Electa Mott, daughter of Unknown and Unknown, on 5 Feb 1856 in Salt Lake City UT. (Electa Mott was born on 1 Jul 1828 in Bethany NY and died on 3 Jan 1879 in Salt Lake City UT.)