Ferris Pell
General notes:
Example
Events in his life were: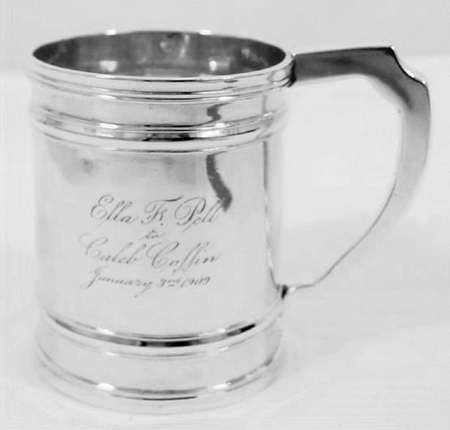 Mug by Garrett Eoff, c 1825
Private Collection
h: 3 1/8"
d: 2 1/2" (at lip)
wt: 4 3/4 oz
Engraved "Ferris Pell / to his nephew / Walter Pell" on front and "Ella F. Pell / to / Caleb Coffin / January 3rd 1909" on side.
Painter, sculptor and illustrator Ella Ferris Pell went from her birth in 1846 in St. Louis, Missouri to a pauper's grave in Fishkill Rural Cemetery in New York in 1922. In between, a seemingly successful career does not explain her poverty-stricken destiny.
Pell graduated in 1870 from the Design School for Women at Cooper Union in New York City after study with the well-known sculptor William Rimmer. While still a student there in 1868, her sculpture of "Puck" received favorable notice in the New York Evening Post newspaper. She then attended the Academie des Beaux-Arts des Champs-Elysees in Paris in the 1880s, studying religious painting with Jacques-Fernand Humbert, portrait and genre painting with Gaston Casimir Saint-Pierre, and history painting with Jean-Paul Laurens.
In between her studies in New York and France, Pell traveled in North Africa, the Near East and Europe for more than five years, exhibiting works including "Water Vendor, Cairo, Egypt" and "La Annunziata," painted during her journeys, at the National Academy of Design in New York City.
In the Paris Salons of 1889 and 1890, Pell exhibited "The Angel Making Adam See the Consequences of His Sin" in the former and "Salome" and "Portrait of Madame T." in the latter. Pell was regarded as an extremely able academic painter with a certain Baroque handling of light and dark exemplified in her fine painting of "Salome."
Returning to New York City in the 1890s, Pell painted two mystical paintings, "Storm Gods of Riz-Veda" and "The Evolution of Soul," as well as "Agnus Dei," painted in 1899 and in the collection of the Columbus (Ohio) Museum of Art. In a more commercial vein, Pell had Christmas card and Easter designs published by color lithographer, Louis Prang. She also illustrated "Through the Invisible," a love story by Paul Tyner which appeared in 1897.
The Fort Ticonderoga Museum in New York has fifty-eight of her paintings in the Pell Family Collection.