Myrick Ogilvia Randall
Born: 25 Jun 1817, Woodstock VT

Marriage (1): Lucy Melvina Kingsbury about 1839 in Brockport NY

Died: 5 Oct 1891, Brockport NY
General notes:
Silversmith, jeweler, and watchmaker
Events in his life were:
He was a partner circa 1842-1843 with Nathaniel Randall in Woodstock VT as RANDALL & RANDALL. 8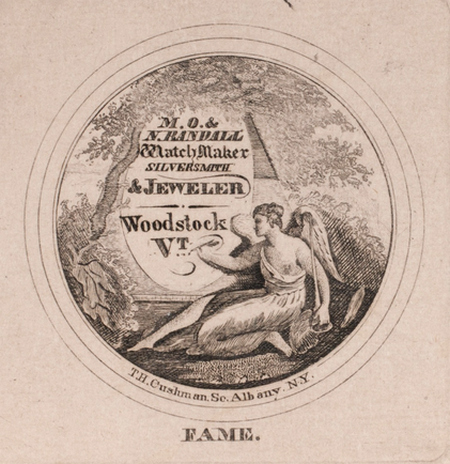 Watch paper for M. O. & N. RANDALL, c 1842
American Antiquarian Society

He appeared on the 1870 census taken at Sweden Monroe NY, listed as a retail jeweler. Asa Hart, age 18, is listed in his household as an apprentice jeweler.
Myrick married Lucy Melvina Kingsbury about 1839 in Brockport NY. (Lucy Melvina Kingsbury was born on 2 Feb 1819 in New York and died on 13 Dec 1882 in Brockport NY.)