Charles Henry Kimball
Born: 25 Dec 1828, Rumford ME

Marriage (1): Laura Stimson Porter on 25 Mar 1868 in Brooklyn NY
General notes:
Example

He commenced his career as a school teacher while only 17 years of age. He was a good scholar and had a natural tact for teaching. In 1850, he secured a position as a teacher in a large boarding school in New York. Later he became a principle at a school in Brooklyn, New York City. In 1860, he became interested in politics and in 1861, was chosen alderman in the largest and most influential ward in Brooklyn. Due to politics, the school board removed him from teaching and school mangerment. Thus, through his influence, a law was passed in New York, prohibiting school boards from dismissing teachers on the account of their religious or political beliefs. His removal from the school system proved to be a blessing, for he than became a stock broker on Wall Street doing a succcessful business as C. H. Kimball & Company.
Events in his life were: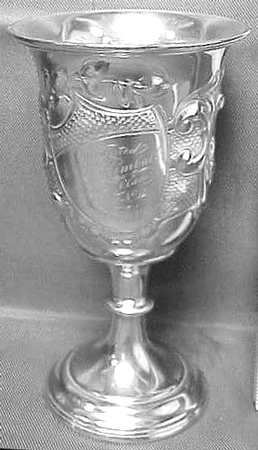 Goblet, c 1850
Private Collection
h: 6 1/2"
d: 3 1/3"
wt: 6 oz
Engraved "Presented / to / C H Kimball / By / The Junior Class / of PSN 44 / Brooklyn"
Charles married Laura Stimson Porter on 25 Mar 1868 in Brooklyn NY. (Laura Stimson Porter was born on 22 Jun 1834 in Levant ME.)