Henry Sleeper Pearson
Born: 23 May 1789, Newburyport MA

Marriage (1): Dorothy Greenleaf on 29 Aug 1814 in Newburyport MA

Died: 30 Aug 1878, Portland ME
General notes:
Silversmith and watchmaker
Events in his life were:
Advertised in the Eastern Argus and Portland Gazette (Portland ME), 1810-1824, as a mathematical instrument maker and watchmaker at 9 Jones Row, Exchange Street. 3
He worked circa 1810-1875 as a silversmith and watchmaker in Portland ME
With a shop at 38 Exchange in 1856.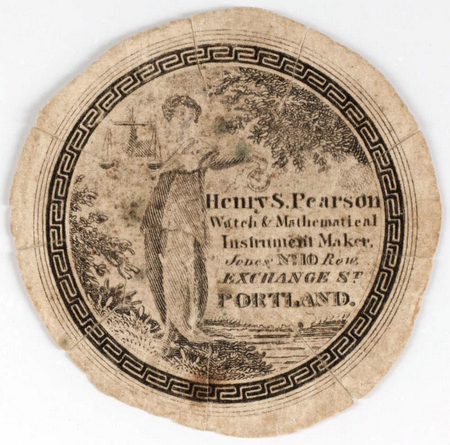 Watch paper, c 1825
American Antiquarian Society

He was a partner in 1829 with Parker Roberts in Portland ME as PEARSON & ROBERTS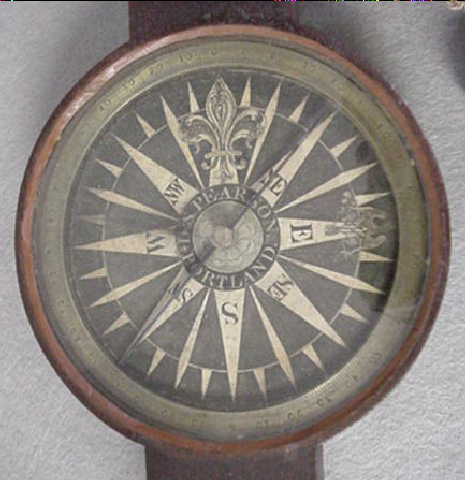 Plain sighting compass, c 1850-1875 1
Mahogany with brass vanes. Compass is fitted with brass vanes but wood body is a transitional piece. Compass card has fleur-de-lis at north and a full eagle with breast shield at east. Card signed Wightman Sculpt. Brass ring dial in 1-degree gradations. Dovetailed wooden case is not fitted but appears to be original to the instrument. Case finished in old red paint. Original Jacobís staff with all-wood locking joint and ball. Staff has what appears to be a bone ring just below the top. Staff ball and joint sock cracked and in need of restoration. One brass vane bolt a replacement. 6 inch vanes. 4 3/4 inch needle. 6 inch dial. 15 inches overall.

He appeared on the 1870 census taken at Portland ME, listed as a nautical instrument maker, living in his son-in-law's household.
Henry married Dorothy Greenleaf, daughter of Enoch Greenleaf and Dorothy Ingersoll, on 29 Aug 1814 in Newburyport MA. (Dorothy Greenleaf was born on 18 Jan 1792 in Newburyport MA and died on 5 Oct 1842 in Portland ME.)