Levant L. Mason
Born: 25 Dec 1826, Buffalo NY

Marriage (1): Eunice C. Stevens on 9 May 1850 in Rochester NY

Died: 13 Feb 1911, Jamestown NY
General notes:
Jeweler
Events in his life were:
He worked in 1845-1850 as a jeweler in Rochester NY 18
He worked circa 1850-1910 as a jeweler in Jamestown NY 18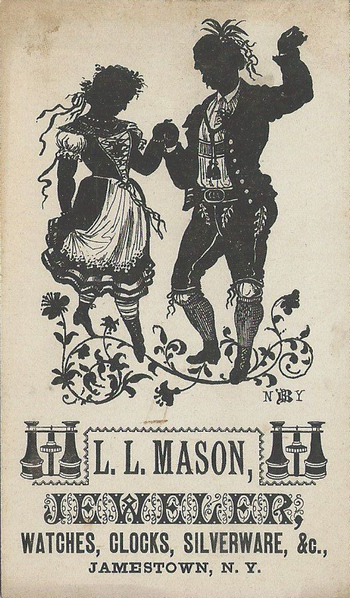 Tradecard, c 1880
Private Collection

Notice: Dunkirk Evening Observer, on 15 Jul 1909, in Dunkirk NY.
Jamestown's Oldest Merchant to Retire.
Levant L. Mason Has Been a Jeweler in That City for 60 Years.
Levant L. Mason, jeweler at 217 Main street, Jamestown's oldest merchant, will retire from business as soon as his present stock of watches, clocks, silverware and jewelry can be closed out, seeking a rest to which his 82 years, 60 of which have been spent in labor in and for this city, surely entitle him, and which his health makes necessary. The move is made however, with much regret on Mr. Mason's part.
Levant L. Mason came with his parents to the settlement of log cabins later to be known as the city of Jamestown in 1832 when he was but five years of age and Jamestown has ever since been his home, except for the four years spent in preparation for his trade at Rochester. The trade learned, he set up his bench in the bay window of a store which occupied the present site of his store at 217 Main street, whence he made successive moves to 206 Main, the Allen block, 216 Main and S. East Third, returning to 217 Main when he bought this building in 1862. During all this time he has conducted his business under his old name and has enjoyed an enviable reputation for skillful work, for square dealing and reliability. His name, with the store emblem, "The Beehive," symbolic of Mr. Mason's own industry, will be sadly missed from the list of business signs on our main streets. A remarkable feature of Mr. Mason's career is that he has done a large part of the hand engraving on silver and gold right up to the present time, his steady hand and nerve at 82 years of age being a marvel to all.
There have been many changes in Jamestown during the sixty years of Mr. Mason's business career, and were he so inclined, he could write a very interesting book of personal recollections of this city and its people. The Civil War, the great Jamestown fire, the terms of 13 presidents of the United States, the growth of Jamestown from a village of a few hundred to a city of 30,000 have all passed by while he has been supplying his customers with jewelry and watches and doing his share as village trustee, clerk and president of the board of trustees, member of the board of education, volunteer fireman, superintendent of Lake View cemetery and warden of St. Luke's Episcopal church, for the people of this city.
Levant married Eunice C. Stevens on 9 May 1850 in Rochester NY. (Eunice C. Stevens was born on 10 Sep 1826 in Boston MA.)