Ezra Beers Booth
Born: 4 Jan 1805, Newtown CT

Marriage (1): Hannah Alworth

Died: 16 Jun 1888, Rochester NY
General notes:
Silversmith, jeweler, and watchmaker
Events in his life were:

Advertised in the Vermont American (Middlebury VT), 1 Apr 1829, announcing the opening of his new shop near the Bridge, where he offers watches, jewelery, and "Any quantity of old gold and silver wanted in exchange for cash and goods." 3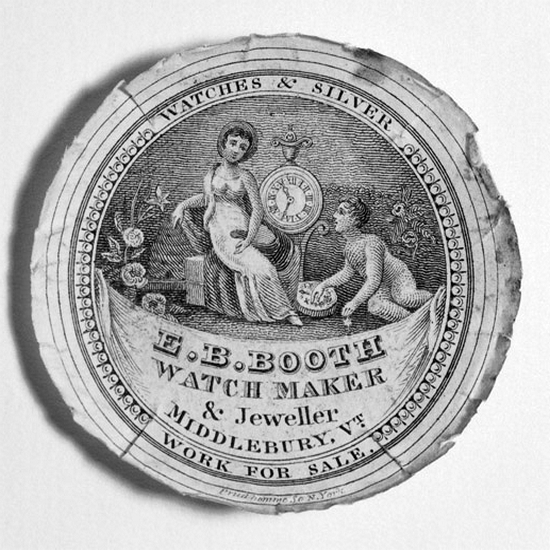 Watch paper, c 1830
Winterthur Library

He was a partner in 1838-1861 with Erastus Cook in Rochester NY 8

He was a partner in 1861-1888 with Henry G. Booth in Rochester NY as E. B. BOOTH & SON, with a shop at 9 State Street. 22

Advertised in the Rochester City Directory (Rochester NY), 1870,
Obituary printed in the Rochester Democrat & Chronicle (Rochester NY) on 17 Jun 1888
Ezra B. Booth died at his residence No. 36 North Clinton Street at an early hour yesterday morning. The deceased was born in Vergennes, Vt. January 4, 1805, and learning the watchmaker's trade for some time lived in Middlebury, Vt. where he married. In 1838 he came to this city and established a small watchmaker's stand on Main Street. Later he entered into business with Erasmus Cook and on the decease of his partner bought a window in Henry Scrantom's toy store. Afterwards he conducted businese in a little shop back of the Arcade. Thirty-four years ago be bought out Brinsmaid's establishment on State Street where Powers Blook now stands and there with his sons he conducted a watchmaking and jewelry business under the firm name of E.B. Booth & Sons until his death.
Ezra married Hannah Alworth. (Hannah Alworth was born about 1809 and died on 24 Jun 1851 in Rochester NY.)