Eleazer Wyer
Born: 1786, Charlestown MA

Died: 28 Feb 1848, Portland ME
General notes:
Silversmith
Events in his life were: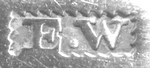 He worked in 1806-1814 as a silversmith in Portland ME in 1809 moved to Fish Street to a shop lately occupied by Joseph Lovis, and in 1810 to Exchange Street. 3
Advertised in the Eastern Argus, 26 Dec 1806, describing himself as a goldsmith and jeweler, with a shop nearly opposite the head of Ingraham's Wharf in Portland and offered for sale a long list of jewelry. He also made and kept on hand silverware and paid cash for old gold and silver. 3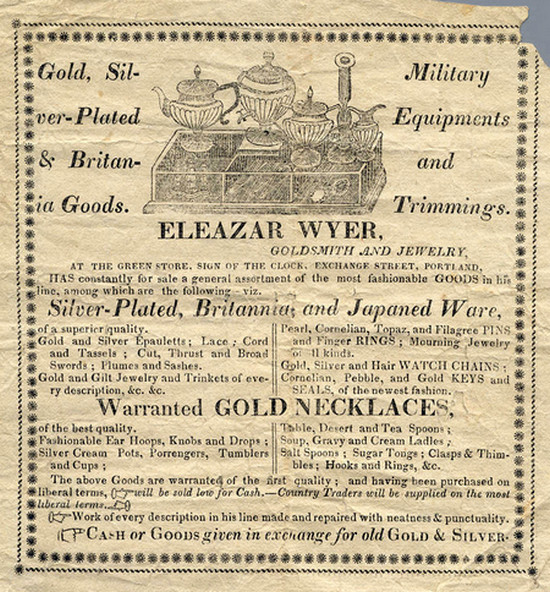 Hand bill, c 1810
Winterthur Library


He was a partner in 1814-1818 with Charles Farley in Portland ME as WYER & FARLEY. When this partnership was dissolved, the business was continued by Wyer. 3

He was a partner in 1821-1835 with Joseph Noble in Portland ME as WYER & NOBLE, dealing not only in jewelry, gold, and silver, but also in iron, copper and brass, and such stock as stoves and foundry work. The Portland Directory for 1823 located WYER & NOBLE at No. 1 Prebles Row. 3
Advertised in the The Portland Gazette (Portland ME), 5 Jun 1821, announcing the partnership of WYER & NOBLE. 3
Flynt & Fales:, . 3 The Portland City Hall records note marriage intentions, June 10, 1810 with Nancy Warren; and May 27, 1843, with Elizabeth Akers of Westbrook, ME.