Lorenzo Dow Anthony
Born: 8 Jan 1807, Portsmouth RI

Marriage (1): Mary S. Holden on 29 Jan 1829 in Portsmouth RI

Died: 19 Mar 1897, Dorchester MA
General notes:
Silversmith and watchmaker
Events in his life were:


He was a partner in 1826-1836 with George Gibbs Clark in Providence RI as CLARK & ANTHONY, with a shop at 25 and 27 Cheapside. 4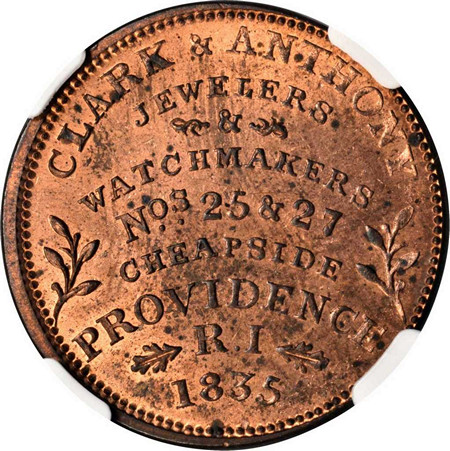 Trade token, 1835
Private Collection

He worked in 1836-1865 as a silversmith and watchmaker in Providence RI
Listed in the 1836 city directory with shop at 27 North Main Street.
Advertised in the Bangor Daily Whig and Courier (Bangor ME), 18 May 1861, as part of a group endorsement of the Waltham Watch Company.
He appeared on the 1880 census taken at Providence RI, listed, with his son, as a fancy goods merchant.
Lorenzo married Mary S. Holden on 29 Jan 1829 in Portsmouth RI. (Mary S. Holden was born on 17 Sep 1808 in Portsmouth RI.)