Ogden Codman
General notes:
Example
Society architect. Spent youth in France, returning to Boston in 1884 to study at MIT. Apprenticed to several Boston firms, he developed a taste for Italian architecture of the sixteenth, seventeenth, and eighteenth centuries; French architecture; and the architecture of his home city. He met Edith Warton in Newport RI and she became his patron, commissioning him to restore the interiors of several homes. He was noted for the accurate drawing he made of historic houses, often as they were being demolished, and later colaborated with Warton on The Decoration of Houses in 1897. He retired from business in 1918 and returned to France where he lived for the remainder of his life.
Codman's offIces were at
100 Chestnut Street, Boston (1891-92)
53 State Street, Boston (1893)
5 West 16th Street, New York (also his residence; 1893-97)
281 Fourth Avenue (Church Missions Building, 1894-September 1901)
571 Fifth Avenue (Windsor Arcade, October 1901-May 1911)
340 Madison Avenue (May 191 l-August 1918)
Events in his life were: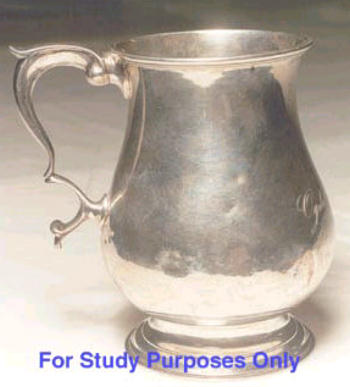 Cup by Albert Lamb Lincoln, 1855-1865
Winterthur Library
h: 4 5/8"
dia: 4 5/8"
Engraved on side: Ogden Codman, Jr. / 1863.