William Grigg
Marriage (1): Helena Stout on 29 Sep 1766 in New York City NY

Died: 1797, New York City NY
General notes:
Silversmith
Events in his life were: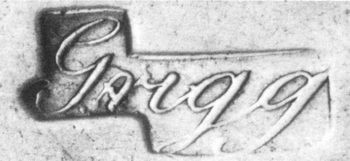 He worked circa 1765-1770 as a silversmith in New York City NY 8
Made freeman of New York City NY, 1 Oct 1765. 8
He worked in 1770-1778 as a silversmith in Albany NY 8
He worked circa 1779 as a silversmith in New York City NY 8
Advertised in the New-York Gazette and the Weekly Mercury (New York City NY), 2 Aug 1779,
"William Grigg; Silversmith, No. 171, Queen-street, opposite Col. Clarke's, Has just imported a variety of Plate and Jewellery, consisting of the following articles. Cream pots, table and tea spoons, soup ladles, sugar tongs, boatswain's calls with chains, a variety of shoe knee and stock buckles of the newest fashion, garnet and paste shoe buckles and earings, gold nob do. gold wire, gold and garnet buckles with sundry other articles."
He worked in 1782-1789 as a silversmith in Halifax Nova Scotia 8
He worked in 1789-1796 as a silversmith in New York City NY with a shop at Maiden Lane and William Street. 8
William married Helena Stout on 29 Sep 1766 in New York City NY. (Helena Stout was born about 1742 in New York City NY.)