Benjamin Dexter
Born: 1 Jun 1817, Rochester MA

Marriage (1): Elizabeth Pease Delano on 31 May 1840 in New Bedford MA

Died: 17 Apr 1879, New Bedford MA
General notes:
Silversmith, jeweler, and watchmaker
Events in his life were:
He worked in 1837-1859 as a silversmith, jeweler, and watchmaker in New Bedford MA listed in city directories 1839-1841 in association with James Monroe, watchmaker. In 1843, he took over the business of John Bailey at 14 Pleasent Street. 4

He was a partner in 1860-1879 with Cyreneus W. Haskins in New Bedford MA as DEXTER & HASKINS. Though he remained a partner until his death, ill health forced a virtual retirement to his farm at Marion for several years. 4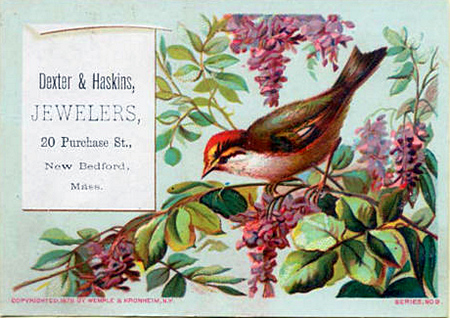 Tradecard, c 1875
Private Collection

Advertised in the Bangor Daily Whig and Courier (Bangor ME), 18 May 1861, as part of a group endorsement of the Waltham Watch Company.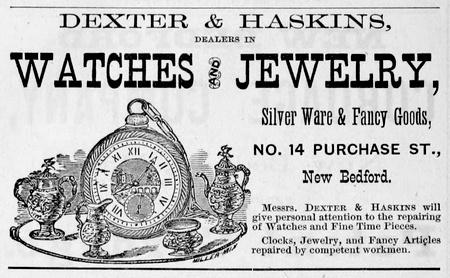 Advertised in the The New Bedford Directory (New Bedford MA), 1875,
Benjamin married Elizabeth Pease Delano on 31 May 1840 in New Bedford MA. (Elizabeth Pease Delano was born on 23 Aug 1820 in New Bedford MA and died on 10 Dec 1881 in New Bedford MA.)